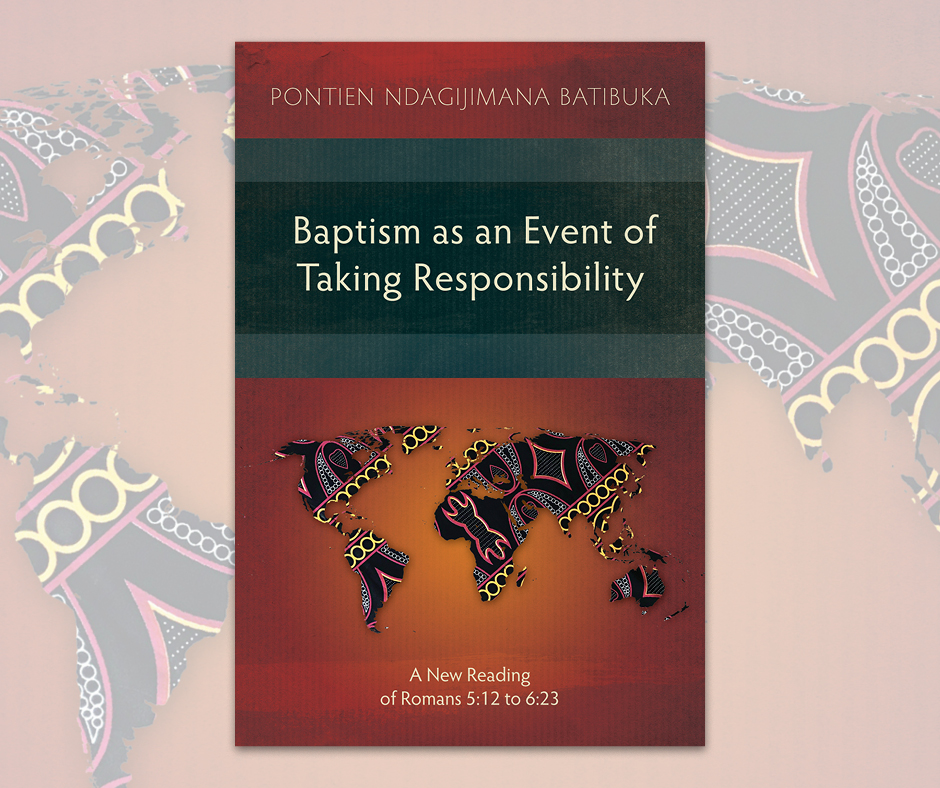 Pontien Ndagijimana Batibuka, Baptism as an Event of Taking Responsibility: A New Reading of Romans 5:12 to 6:23, Langham Monographs, Carlisle: Langham Publishing, 2022. ISBN 9781839732348. £24.99.
Dr Pontien Batibuka has just published a revised version of his fine doctoral study of Romans 5:12–6:23, focusing on the meaning of baptism in that section of the letter. It's well worth reading. He is a professor of New Testament studies and the Library Director at Shalom University of Bunia, Democratic Republic of Congo. He co-founded the NGO, PROREV (The Program of Empowering People Made Vulnerable by War) in 2019 for which he also serves as coordinator. His doctoral work was at London School of Theology with Steve Motyer as supervisor.
Here's the commendation of it which I wrote:
Paul's understanding of baptism is much debated, including whether baptism is divine or human action. Dr Batibuka offers a fresh approach to the question through a fourfold model of initiation drawn from the ancient world: an encounter with the divine, a break with the old way of life and attachment to the new, a public ceremony of transfer, and a commitment to a new way of life. The application of this model to Paul's own conversion and to Romans 5–6 is thoughtful and engaging, drawing on a wide range of scholarship. It is particularly good to see Francophone scholarship well represented. Dr Batikbuka argues cogently that both divine initiative and responsive human dimensions of baptism are indispensable. To be baptized entails: a life-changing encounter with God-in-Christ; a change of allegiance to Christ; a public, ceremonial expression of that change in water; and a commitment to a new life with Christ as Lord. This thoughtful study deserves a wide readership.
It's now available—here's the table of contents:
Abstract
Abbreviations
Foreword
Chapter One Baptism in Romans 6 and the Idea of Taking Action

The Research Question
On Methodology

Action is Not Always Physical: "Speech-Act Theory"
Socio-Religious Approach to Romans 5:12–6:23

Structure
Two Presuppositions on Romans 5:12–6:23

Romans 5:12–6:23: A Pericope on Transition and Action
Baptism in Romans 6: Initiation as the Meaning

Literature Survey: Action in Baptism, an Overlooked Aspect

The Baptismal Candidate Considered as Passive
Hints at Baptism as a Time of Action

Conclusion

Chapter Two The Four Stages of Entry into the New Life in Paul's Time

Introduction

Ethnic Origin of Believers in Rome
Relevant Religious Settings and Structure of Chapter Two

The Four Stages and the Mysteries
The Four Stages and State Religions

Initiation to Adulthood
Entry into Marriage

The Four Stages in Jewish Context

Proselytes' Entry in Second Temple and Rabbinic Judaism
Entry into the Qumran Community

Summary

Chapter Three Paul's Conversion and the Four Stages of Entry

Introduction
Methodological Issues in Connection with Paul's Conversion
God's Light and Glory Given to Paul (Stage One)
Blind But Fasting and Praying (Stage Two)
Sealing Attachment to the New Way: Baptism (Stage Three)
The After-Entry Life Anticipated in the Entry Process (Stage Four)
Summary

Chapter Four The Four Stages and Action in Romans 5:12–6:23

Introduction
Divine Action at the First Stage: ἡ χάρις τοῦ θεοῦ καὶ ἡ δωρεὰ ἐν χάριτι . . . Ἰησοῦ Χριστοῦ εἰς τοὺς πολλοὺς ἐπερίσσευσεν (5:15)
Second Stage Action: Death to the Old Way of Life (ἀπεθάνομεν τῇ ἁμαρτίᾳ, 6:1–2)

Stating the Issue
Death to Sin and the Initiatory Act of Breaking with the Old Way

Third Stage Action: The Ritual of Baptism, Sealing the Rejection of the Old and the Bond with the New (6:3–4)
Fourth Stage: The After-Entry Life Embraced in the Transition Process

βασιλεύσουσιν (5:17) and Initiatory Future in Romans 5:12–6:23
Διὰ δικαιοσύνης (5:21): Forensic, or the Initiate's Righteous Life?
Walking in the New Existence (ἐν καινότητι ζωῆς περιπατήσωμεν, 6:4–5)
Serving the New Existence: The Slave Motif (6:6, 13–22)

Summary

Chapter Five Conclusion

Summary of Findings

The Rite that Seals Entry, a Time for Action: Chapters Two and Three
Baptism in Romans 6: A Time for Action

Suggestions for Further Research
Achievement