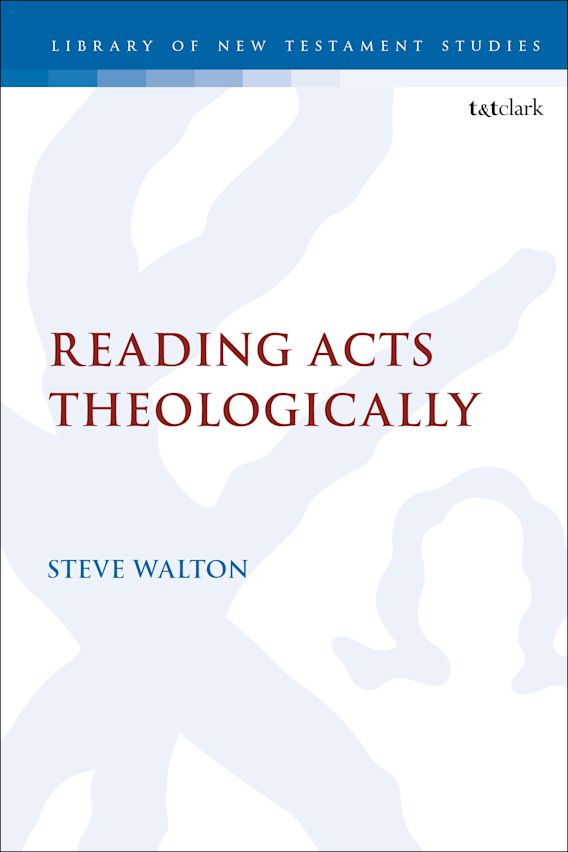 I'm delighted to say that my new book is now available. It's a 'collected essays' volume, bringing together thirteen essays about Acts that I've written over the last twenty years as I've worked on my Word Biblical Commentary on Acts. Most have been published elsewhere; two are published for the first time here. Alas, it's not cheap in the hardback which now appears, but there will be a paperback in 18–24 months, so be patient—and please, in the meantime, ask your library to get the hardback. Here's the book description, the table of contents, and some commendations which other Acts scholars have kindly given for the book. The T. & T. Clark webpage for the book has a link to allow you to read some extracts.
Book Description
Steve Walton has consistently focused his research and scholarship upon the theological perspective of Acts, while considering the book's nature and focus, its portrait of the early Christian communities and their mission in the culturally varied first-century world, and its major theological themes. Walton now collects several of his key essays into an expansive and coherent perspective, bringing together studies published over nearly two decades during his time of study and reflection in the process of writing the Word Biblical Commentary on Acts.
The collection begins with an exploration of what 'reading Acts theologically' means, the divine perspective of Acts, and how Luke theologizes through narrative. Walton presents analyses covering the nature of the early Church and the main terms used by the communities; the believers' sharing of possessions; early Christian attitudes to the Jewish temple; decision-making among the earliest Christians; and the church's engagement with the Roman empire and its representatives. This volume studies theological themes in Acts such as Jesus' role as a character in the text while also located in heaven, and the cosmology and anthropology communicated by Acts, thus providing a new reflection on the early Christian understanding of God, Jesus and humanity.
Table of Contents
Acknowledgments
List of Abbreviations
Part I: Looking at Acts
Chapter 1: Reading Acts Theologically
Chapter 2: The Acts-of God? What is the 'Acts of the Apostles' All About?
Chapter 3: Doing Theology Lukewise: Luke as Theologian and Storyteller
Part II: The Believing Communities and Their World
Chapter 4: Calling the Church Names: Learning about Christian Identity from Acts
Chapter 5: Primitive Communism in Acts? Does Acts Present the Community of Goods (2:44-45; 4:32-35) as Mistaken?
Chapter 6: A Tale of Two Perspectives? The Temple in Acts
Chapter 7: Deciding about Deciding: Early Christian Communal Decision-Making in Acts
Chapter 8: Trying Paul or Trying Rome? Judges and Accused in the Roman Trials of Paul in Acts
Chapter 9: What Does 'Mission' in Acts Mean in Relation to the 'Powers That Be'?
Part III Theological Themes in Acts
Chapter 10: Jesus Present and/or Absent? The Presence and Presentation of Jesus as a Character in the Book of Acts
Chapter 11: Identity and Christology: The Ascended Jesus in the Book of Acts
Chapter 12: 'The Heavens Opened': Cosmological and Theological Transformation in Luke and Acts
Chapter 13: Turning Anthropology Right Side Up: Seeing Human Life and Existence Lukewise
Bibliography
Indices
Commendations
'This volume offers major contributions from one of today's top Acts scholars. It treats Acts from multiple angles, showing competence in a wide array of topics. Anyone working on Acts should engage with this valuable work.'
Craig S. Keener, F. M. and Ada Thompson Professor of Biblical Studies, Asbury Theological Seminary, USA.
'The essays collected in this volume represent over two decades' worth of detailed study and show Steve Walton's ability to apply a range of theoretical approaches to draw out new interpretations. By focusing on the substance, teaching, and message of Acts, Walton places himself firmly in the tradition of theological interpretation. However, Walton demonstrates that new insights can be gleaned that highlight the coherence of the text and allow the text to speak to present-day readers about the nature of God and his actions and purposes for humanity and the world. This book reinforces Steve Walton's position as a leader in the theological study of the Acts of the Apostles and represents an important milestone for Acts scholarship.'
Sean A. Adams, Professor of New Testament and Ancient Culture, University of Glasgow, UK.
'What a gift to have so many important essays gathered here, all together in one place! Steve Walton, a thorough and trustworthy Acts scholar, brings characteristic clarity and insight to the often-neglected task of considering how Acts engages in—and encourages—theological reflection.'
Matthew L. Skinner, Professor of New Testament, Luther Seminary, USA.
'This collection of essays by Steve Walton provides a rich theological resource for Lukan scholarship which will delight both scholar, clergy, and lay person. Steve writes with the skill of a seasoned teacher and his insights will resource and challenge the reader. I highly recommend this book as a way to find richness and depth in the book of Acts.'
Sarah Harris, Lecturer in New Testament, Carey Baptist College and Carey Graduate School, Auckland, New Zealand.
'As a leading author on the theology of Acts, Steve Walton has done a great service in gathering together his reflections on what it means to read Acts theologically. This collection of essays, ranging from Luke's portrayal of God to Luke's anthropology, is a welcome addition to anyone who is interested in doing theology "Lukewise".'
Brittany E. Wilson, Associate Professor of New Testament, Duke University Divinity School, USA.