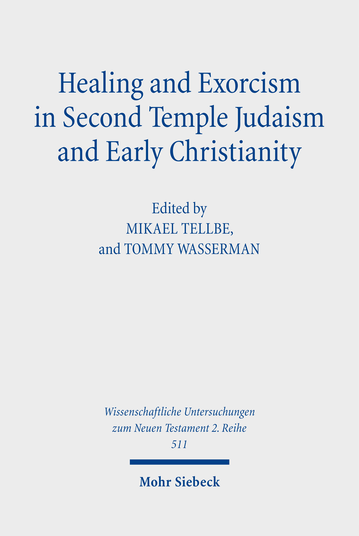 Mikael Tellbe & Tommy Wasserman, eds.
Healing and Exorcism in Second Temple Judaism and Early Christianity
WUNT 2/511; Tübingen: Mohr Siebeck, 2019; ISBN 978-3-16-158936-2
Another month, another new book! Just out from Mohr Siebeck is this collection of essays from an excellent conference hosted by Tommy Wasserman and Mikael Tellbe at the theological college in Örebro, Sweden. I hugely enjoyed participating in the conference (see my report here), and am now delighted to see the revised papers published—with one or two additions, including a very helpful essay by Graham Twelftree. The volume contains what must be one of the last of Larry Hurtado's contributions to scholarship before his death last November—a valuable essay on the use of the name of Jesus in early Christian healing and exorcism. Among a very good set of papers, there's also a belter of an essay by Lena-Sofia Tiemeyer, with the fabulous title, 'Dumping your toxic waste abroad: Exorcism and healing in Zechariah's vision report and beyond'.
My own contribution, 'Why silence? Reflections on Paul and Jesus silencing demonised people in Luke-Acts', looks at two fascinating stories where a demonised person is silenced: by Jesus (Luke 4:31-37) and by Paul (Acts 16:16-18). Silencing such a person is very rare, even in the New Testament, and unheard of in other ancient sources on deliverance, including the Greek magical papyri. My paper seeks to understand what's going on and what claims about Jesus such episodes make.
The list of essays and authors is available in the pdf flyer about the book from Mohr Siebeck here. Warm congratulations to Mikael and Tommy on this excellent volume!